Thanks lyka for the tag.

Here are the rules:

You can answer it directly or used some images just like mine.Remove one (1) question from below and add in your personal question, make it a total of 20 questions, then tag five (5) people in your list. List them out at the end of this post.

1. At what age do/did you wish to marry?





2. What color do you like most?





3. Have you ever shoplifted?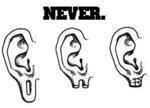 4. Where is the place that you want to go the most?




5. Which part of you that you hate the most?





6. When you encounter a sad moment, what would you do?





7. What are you afraid to lose the most?




8. If you win $1 million, what would you do?



,


9. What do you loved the most last year (2007)?




10. List out 3 good points of the person who tagged you:


,
,


11. How do you cope with boredom?


,


12. Till now, what is the moment that you regret the most?




13. Which type of person do you hate the most?




14. What is your ambition?




15. If you had one wish, what would you wish for?




16. How did you celebrate New Year?




17. It is already 2008, do you have a new year's resolution?





18. What do you look forward to in 2008?




19. Are u a physical fighter or talker?




20. What is the name of my hunny?





***Asking 20 Questions to: twinkletoe, jean, lyra, gellie , brattyeynah